Introduction To
Chin Augmentation
Did you know the anchor to face isn't the eyes? It's the chin. A chin is a contour to your lower face, profile, and jawline, thus setting the symmetry and alignment of your face. For many, the chin is the topic of constant frustrating thought, as a chin can sometimes protrude and, in other cases, sink in. In Grand Rapids, we offer a solution to achieve the desired chin with state-of-the-art processes, using only the latest technology for Chin Augmentation. Plastic surgery and other minor office procedures can often be performed on the lower jaw line and chin area to improve the proportions of the face to help with one's confidence and self-esteem. You no longer need to live with the appearance of an enlarged or receding chin. This page is dedicated to the information you need to better understand Chin Augmentation and if the procedure can work for you.
What is a Chin Augmentation?
Chin Augmentation is designed to change or improve your chin's appearance with surgery. The two main types of chin surgery available at Advanced Plastic Surgery are Chin Augmentation using implants and Chin Reduction. Details about the procedure vary according to each individual's needs; below is an introduction to both methods.
Chin Augmentation (Implants): Chin Augmentation surgery is usually performed to augment an under-projected chin. This is accomplished by Dr. Ewa Timek placing an implant directly on the bone. A silicone implant may be customized to match your natural features. During surgery, a small incision is made either inside the mouth or underneath the skin of the chin, in which the implant is placed. After the implant is positioned, the incision is then closed with sutures.
Chin implants are usually made of silicone, a flexible, artificial substance. Sometimes, implants are made from bone, but these aren't as common. Implants come in different shapes, sizes, and styles. Dr. Ewa Timek will help determine what will work best for you.
Chin Reduction Surgery: Chin reduction surgery, or chin shaving surgery, is conducted to reduce a prominent or overly large chin. The surgery is typically performed under general anesthesia, and Advanced Plastic Surgery is an outpatient procedure. A small incision is made either inside the mouth or underneath the skin of the chin. Excess bone is removed, and the chin is contoured to the desired shape, then the incision is closed with sutures.
What are the Benefits of Chin Augmentation?
Dr. Ewa Timek often encourages our patients to consider Chin Augmentation surgeries for various reasons, and beyond the cosmetic advances is a significant list of life benefits. Improving the balance of the facial elements with Chin Augmentation is just one of many ways to enhance appearance in a surgical or non-surgical way. Some of the benefits of this procedure include:
Minimizing the appearance of a double chin

Balance the nose and chin for better harmony across the face

Reduce or eliminate chin dimpling

Strengthened chin appearance

More attractive, triangular jaw shape

Increased width or height of the chin

Improved profile appearance
Who are the Best Candidates for Chin Augmentation?
You may be wondering if Chin Augmentation is indeed for you; chances are that by finding this page and doing your own research, you may be our next candidate in Grand Rapids for a procedure that will undoubtedly help you overcome a mental and physical hurdle. Anyone concerned about a protruding chin or a small or recessed chin may consider plastic surgery by Dr. Ewa Timek. People with trauma to their face, such as a facial fracture or tumor removal, might also consider and benefit from a chin implant. In general, you may be a good Chin Augmentation candidate if: 
You are upset by the appearance of your chin

You have reached full skeletal maturity (bone growth is complete; late adolescence)

Have realistic expectations about the results of chin implant surgery

You are physically healthy and at a stable weight

You have a chin that is too short or lacks projection from the face

You are a nonsmoker
"Will restore balance to your facial profile."
– Ewa Timek, MD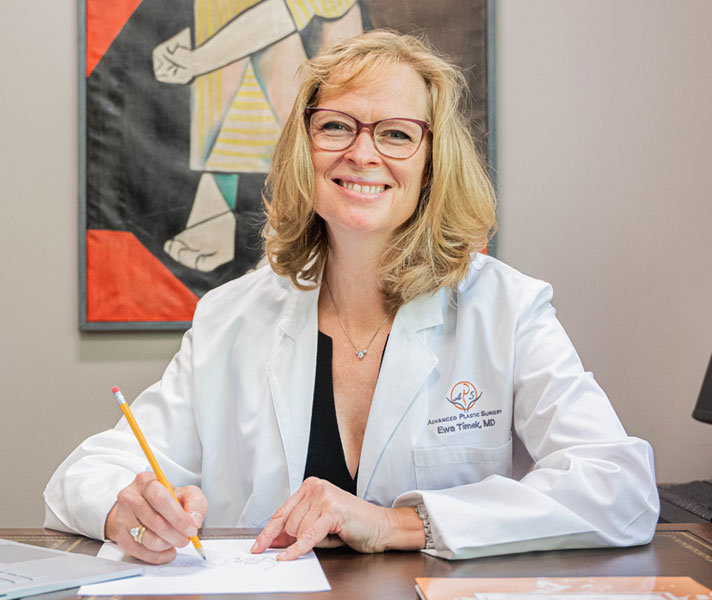 What's The First Step?
AT ADVANCED PLASTIC SURGERY
Much like many of our procedures, the first step to getting Chin Augmentation in Grand Rapids is realistic expectations about what this procedure can and can't do for your appearance. Once you understand the conditions of plastic surgery, then you can begin the first step with your consultation. Our team considers your appointment of the utmost importance, as every patient is unique in their facial structure, with specific technical requirements for the chin. During the consultation, you will be asked about your desired chin size and anything else about your lower face contour that you would like to see improved. This will help Dr. Ewa Timek and our team understand your expectations and determine whether they realistically can be achieved. Dr. Timek will then examine your chin, take measurements, and perhaps take photographs for your medical records. We take time to carefully evaluate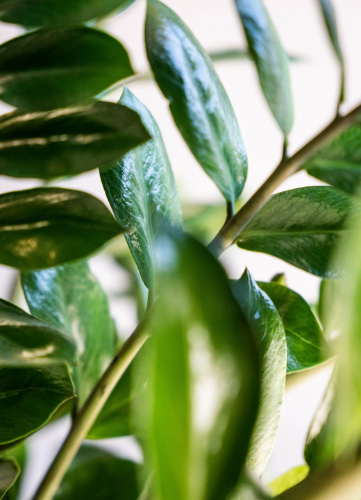 What to Expect on the Day of Chin Augmentation
We understand how intimidating plastic surgery can be, especially when surgery is required in the facial area. Our top priority on the day of your Chin Augmentation is to ensure your safety and comfort. Being confident and relaxed is a key ingredient to the success of your long-overdue life change. During surgery, we will use local anesthesia, sedation, or general anesthesia, depending on the length and complexity of your procedure. Once under the anesthesia, Dr. Ewa Timek will begin by making a thin, small incision either inside the lower lip or below the chin; in some cases, the incision may be on the outside of your chin. When getting an augmentation, an insert will be placed in this newly formed pocket, with the size and type of insert being predetermined during your consultations. If you are getting a Chin Reduction, any excess bone is removed, or Dr. Timek will use special tools to move skin, fat, and tissue aside so your chin will be contoured to the desired shape. Our team will then close the incision using dissolvable stitches or glue while applying a bandage and antibiotic ointment.
Chin Augmentation Recovery
Depending on the intricacy of your surgery, you may be able to go home the same day as your Augmentation. With any procedure, there will be swelling and bruising, as well as some discoloration to the area that received the surgery; this is natural after Chin Augmentation. As the weeks pass, the swelling will subside. You should take it easy for about a week or two after your procedure. Light activities are considered fine, but you should avoid:
Heavy lifting

Strenuous activity

Bending over for long periods of time
Dr. Ewa Timek will give you specific instructions about how to care for your incision, and our top team of physicians will provide you with pain medication if necessary.
AVERAGE COST
how much does Chin Augmentation cost in grand rapids?
Cost questions, breakdowns, and transparency is essential to us. We aim to help you understand exactly what your costs will look like based on the procedure approach.
The cost of Chin Augmentation in Grand Rapids varies on several factors and is best discussed during your consultation at Advanced Plastic Surgery. During your appointment, we can answer questions and provide you with our expert recommendations on the most cost-effective plan.
Why Choose
Advanced Plastic Surgery
As we stated before, the chin is the anchor to your facial symmetry. This is why so many come to Dr. Ewa Timek, as it requires a professional touch to insert an implant or move or reshape bones. Skill and dedication are what you met with at Advanced Plastic Surgery. Dr. Ewa Timek and her team are dedicated to providing our patients with the latest, most up-to-date, and evidence-based information so that together we can determine the best course of treatment for our patients. No stone is unturned regarding how we can serve you better.
When you walk through the doors of Advanced Plastic Surgery, you will be welcomed by our warm, caring staff that attends to your individual needs. We have seen Chin Augmentation Surgery change lives; it's time to add your story to the ones before. We work closely with each patient to understand their appearance goals and interest in Chin Augmentation, and we can't wait to start the conversation with you.
Become a Patient
contact us
Ready to change your life? Schedule your consultation; it's that simple! We hope this page instilled the assurance you need to initiate a call to our office; it's now time to take the step forward toward your Chin Augmentation. When you reach out to Advanced Plastic Surgery, a polite and knowledgeable staff member will take your phone call, answer any primary questions, and establish a consultation date and time to discuss your inquiry further. Please feel free to call at 616-323-3102, or fill out the contact form, so that we may accommodate you at your earliest convenience. We look forward to helping you achieve the chin of your dreams!
Patient Resources
Advanced Plastic Surgery
We're here to help, with a number of patient resources designed to make your experience as comfortable as possible. Read through the materials below, and don't hesitate to reach out.