Introduction To
Eyelid Surgery
You view this beautiful world through your eyes, but much like if the shades are pulled down on your windows at home, your eyelids can obstruct your view. This can be a genetic defect, nerve or muscle damage, or just your body aging, but regardless of the reasoning, there are ways to treat this condition. At Advanced Plastic Surgery, we offer our Grand Rapids patients the Blepharoplasty procedure to create stunning results and rejuvenate the upper and lower eyelids. If you feel like this procedure could be good for you, please continue reading to learn more about it.
What is Eyelid Surgery?
A Blepharoplasty (eyelid surgery) is a surgical procedure that can improve the appearance of your eyelids. It can be performed on the upper lids, lower lids, or both for a more youthful appearance. It's also a great way to improve the following conditions:
Bags under the eyes
Drooping lower eyelids that reveal white below the iris
Excess skin and fine wrinkles of the lower eyelid
Fatty deposits that appear as puffiness in the eyelids
Loose or sagging skin that creates folds or disturbs the natural contour of the upper eyelid
Restricted vision
Aesthetic eyelid surgery can usually correct these problems, though other treatments may also need to be considered. If the upper eyelid condition is accompanied by sagging of the eyebrows, then a forehead lift may be recommended. Blepharoplasty can also be combined with a variety of other cosmetic treatments to even out your appearance. If you've got "crow's feet", you can smoothen them with BOTOX, chemical peels, or laser resurfacing. For our patients with circles under their eyes caused by dark pigmentation, we strongly recommend a chemical peel. Dr. Timek can provide further information if you have an interest in any of these additional procedures. 
What are the Benefits of Eyelid Surgery?
We have seen a Blepharoplasty benefit our Grand Rapids patients in the following ways:
Appear less tired

Boost your confidence

Corrects a drooping brow

Corrects visual impairments

Eliminates dark circles and under-eye bags

Long-term improvement

Minimal scarring

Restores youthful definition in your eyelids
Who are the Best Candidates for Eyelid Surgery?
Any one or combination of the following conditions may indicate that you may be considered a good candidate for eyelid surgery:
Excess skin obscuring the natural fold of the upper eyelids

Loose skin hanging down from the upper eyelids, perhaps impairing vision

A puffy appearance to the upper eyelids, making the eyes look tired

Excess skin and fine, "crepe paper type" wrinkles of the lower eyelids

Bags and dark circles under the eyes

Lower eyelid droopiness
"Your eyes will look and feel less tired."
– Ewa Timek, MD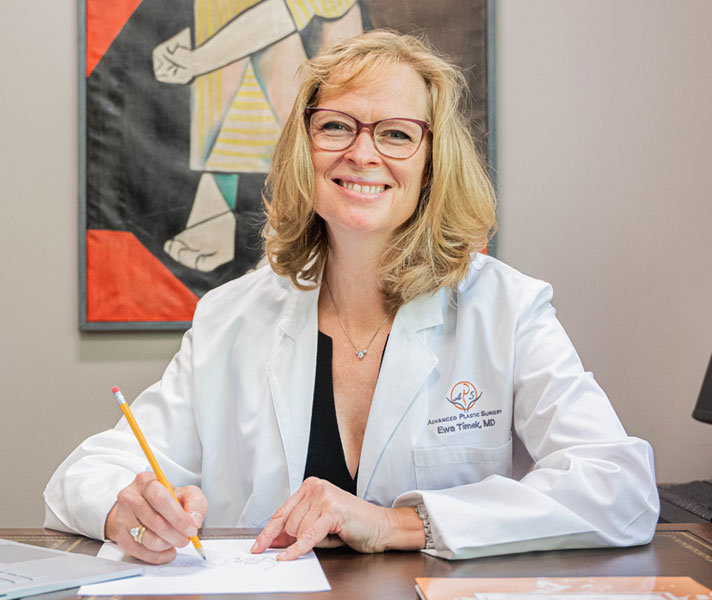 What's The First Step?
If you are looking into Blepharoplasty in the Grand Rapids area, the first thing you should do is contact Advanced Plastic Surgery and schedule a consultation. During this appointment, you will meet with Dr. Timek and express the concerns you currently have and what you would like to achieve from this procedure. After answering all your questions, she will ask you some questions of her own regarding your medical history and examine your eyelids. Once she has a good idea of what she will need to do, Dr. Timek will create your surgical plan. If you agree with her, the next step is to speak with our Patient Coordinator to schedule your surgery date and time. You will also be given a list of instructions to follow that will set you up for optimal results during your procedure and recovery.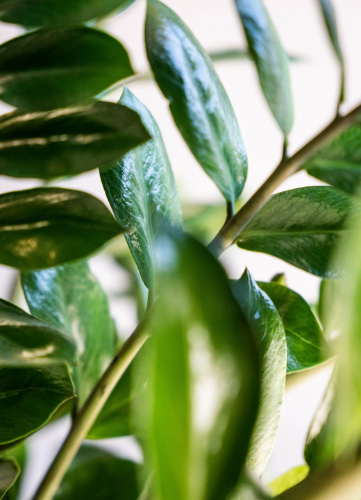 What to Expect on the Day of Eyelid Surgery?
At the beginning of your procedure, you will be administered anesthesia in the form of intravenous sedation or general anesthesia to make your experience more comfortable. 
The length of this surgery can be anywhere from 45 minutes to a few hours, depending on what is being operated on.
After you are finished with your surgery and your incisions are closed, Dr. Timek will most likely cover your eyes with loose gauze that you should wear for a day or 2. 
Upper Eyelid Surgery
Upper Eyelid surgery has incisional and non-incisional techniques, and which one Dr. Timek uses is primarily dependent on your age. The less invasive method is usually performed on younger patients who don't have a lot of excess skin or fat yet. She will make tiny, measured markings on your upper lid, followed by a series of tiny punctures. She then uses sutures through these punctures and tightens them into a realistic crease. 
Our older patients normally require the incisional technique because they have excess skin from lost collagen and elastin. Dr. Timek removes the excess skin, muscle, and/or fat, and closes the incision using very tiny sutures. Depending on the suture used, it may dissolve over time or be removed by Dr. Timek during your first check-up.
Lower Eyelid Surgery
If you are getting a Lower Blepharoplasty, whether it's by itself or with Upper Blepharoplasty, Dr. Timek will need to make strategic incisions to achieve the end goal. There are 2 primary techniques, the Transconjunctival approach and the Skin (a.k.a. Infraciliary or Subciliary) approach. 
Transconjunctival is a more popular technique, especially for patients with excess lower eyelid prolapse. While this technique itself has several approaches, the most popular one uses an incision through the conjunctiva (a mucous membrane lining the inside of the eyelids) and lower eyelid retractors. This avoids leaving an obvious scar on the exterior. The Skin approach uses an incision below the eyelash line hidden in a crease, keeping the scar hidden. Regardless of the method used, Dr. Timek will remove any herniated, excess fat through one of these two incisions and get rid of unwanted eye bags.
Eyelid Surgery Recovery
After your Blepharoplasty, you will be able to go home to recover more comfortably, however, you will need to have a friend or family member available to give you a ride. You can expect some swelling, bruising, irritation, dry eyes, and discomfort during your initial recovery stage. You will be given special lubricating ointment and medications to help your recovery be as painless as possible, as well as get the most out of your procedure. You may lightly apply cold compresses to your eyes to alleviate any additional pain. 
You will also be expected to practice diligent sun protection and wear darkly tinted sunglasses until your eyes have completely healed.
AVERAGE COST
how much does Eyelid Surgery cost in grand rapids?
The cost of Eyelid Surgery in Grand Rapids, MI is determined by a wide variety of factors, such as what techniques are used and what you are trying to achieve through the surgery. When you come in for your consultation and Dr. Timek has a clear understanding of what you will need, she will create a treatment plan which will provide our Patient Coordinator with the information required to give you a price breakdown for your surgery and treatment.
Why Choose
Advanced Plastic Surgery
Ewa Timek, MD is a board-certified member of the American Society of Plastic Surgeons (ASPS), a member of the American Society of Reconstruction Microsurgery (ASRM), and serves on the editorial boards of the Microsurgery Journal and Annals of Plastic Surgery. After receiving her medical degree at Stanford University School of Medicine, she went on to train in plastic surgery at Loma Linda University in California. Her skill set and passion for people have led her to open Advanced Plastic Surgery in Grand Rapids, MI where she has hand selected a team of like-minded individuals. She is constantly learning the new techniques and technologies available in the Aesthetic and Plastic Surgery community and encourages her staff to do the same.
Become a Patient
contact us
If you are interested in Blepharoplasty in Grand Rapids, MI, we encourage you to schedule a consultation with Dr. Timek at Advanced Plastic Surgery. You can call us at (616) 323-3102 or very easily request an appointment through our website and one of our knowledgeable and friendly team members will be in touch with you.
Patient Resources
Advanced Plastic Surgery
We're here to help, with a number of patient resources designed to make your experience as comfortable as possible. Read through the materials below, and don't hesitate to reach out.