Introduction To
Laser Vein Reduction
When approaching vein reduction, it is important to distinguish the two types of veins treated: spider veins and varicose veins. Spider veins, or telangiectasia, are small red, blue, and purple blood vessels that appear most frequently on the face and thighs but may appear in any area of the body. Varicose veins are usually larger than ¼ inch in diameter and may appear raised with a bluish color. They appear mostly on the legs and may also be related to more serious vein disorders and require a careful evaluation by your doctor before treatment. At Advanced Plastic Surgery, we aim to provide our Grand Rapids patients with the best Laser Vein Reduction results around. To learn more about how this treatment can help you, please continue reading the information we have provided on the page below.
What is Laser Vein Reduction
Laser Vein Reduction is a noninvasive treatment that closes the blood vessels that cause spider veins to appear by using an energy beam. This beam targets the blood vessels and heats them until they are destroyed and removed through your body's natural process of removing cells.
Telangiectasia and varicose veins often present an aesthetic concern, and many patients seek to get rid of these unattractive and sometimes embarrassing distractions from their natural beauty. With advances in today's medical technology, we're able to safely and effectively treat spiders and small varicose veins.
Who are the Best Candidates for Laser Vein Reduction?
The best candidates for Laser Vein Reduction in Grand Rapids are those patients who:
Are in good overall health

Have no blood diseases or problems with bleeding

Maintain realistic expectations for the procedure

Nonsmoker
You are also a great candidate for this treatment if you are looking to fix the following conditions:
Angiomas (benign growths made of blood vessels or lymphatic vessels)

Feeder veins or reticular veins (blue or greenish veins that are slightly deeper but still near the skin's surface)

Poikiloderma (appears as mottled, reddish-brown patches usually on the sides of your neck, upper chest, and cheeks)

Port Wine Stains (a birthmark in which swollen blood vessels create a reddish-purplish discoloration of the skin)

Rosacea (blushing or flushing and visible blood vessels in your face)

Spider veins or telangiectasias  (pink, purple or red veins that are small and superficial)

Venous Lakes (soft, squashable, blue or purple macule or papule, that is 0.2–1 cm in diameter)

Visible veins on the face or legs
If you are currently pregnant or have tattoos in the treatment area, you may not be a good candidate for Laser Vein Reduction. If you are currently taking certain medications like blood thinners, photosensitizing drugs, or Accutane, you should speak with Dr. Timek about your options. Lastly, if you currently have diabetes, herpes, or vitiligo (loss of skin color in patches), this treatment may not be right for you.
What are the Benefits of Laser Vein Reduction?
Advanced Plastic Surgery has seen our Laser Vein Reduction patients in Grand Rapids reap the following benefits from their treatment:
Better options for clothing

Improved quality of life

More energy

Provides relief from leg cramps and swelling

Removes the need for compression socks
"Enjoy your beautiful self!"
– Ewa Timek, MD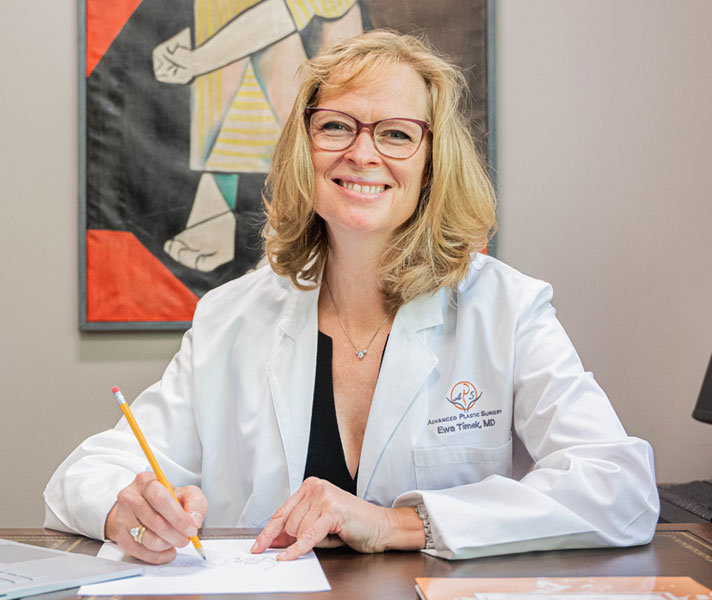 What's The First Step?
AT ADVANCED PLASTIC SURGERY
If you feel like Laser Vein Reduction in Grand Rapids, MI is right for you, the first thing you should do is contact Advanced Plastic Surgery and schedule your consultation with a member of our Aesthetic team. When you come in for your appointment, you will be able to express your desires for the treatment, ask any questions you may have, and have your treatment area examined by the technician. They will also ask you about your medical history, which is very important, to be honest about as the information provided will help the technician make the best decisions for your treatment. After they have all the information that they need, a treatment plan will be created for you and if you agree with it, you can either have your first session done after your consultation or reschedule for another time if needed with our Patient Coordinator.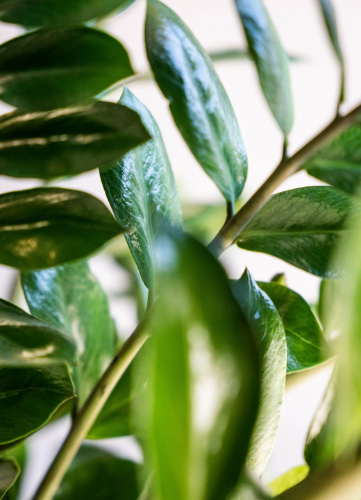 What to Expect on the Day of Laser Vein Reduction
When it's time for your Laser Vein Reduction, you will be provided with eye protection to shield your eyes from the laser. Depending on the degree of treatment, you may receive some numbing medication to make your treatment more comfortable. The laser will be gently moved along your treatment area, heating up and contracting the veins, making them less prominent.
Your treatment can take anywhere between 30 minutes to an hour, depending on the surface area being treated.
Laser Vein Reduction Recovery
After your treatment, you should take the remainder of your day and relax, as you might feel some mild burning or sting in the treated area, but you will be able to treat it with over-the-counter pain medication. You can also expect to be a little swollen in the area for about a week. You may have your area wrapped with a compression bandage for optimal recovery results and you should wear them for a day or two after treatment, taking them only if you need to shower or while you're sleeping. If you do shower, you should make sure that the water temperature is not too hot.
While you are recovering, light exercise is encouraged as inactivity raises the likelihood of blood clotting, which will put your health at risk. You should avoid sitting or standing for long periods, but short walks will help your blood circulation.
*For the maximum long-term resolution, 1 or 2 additional treatments may be necessary.
AVERAGE COST
how much does Laser Vein Reduction cost in grand rapids?
The cost of Laser Vein Reduction in Grand Rapids is determined by many factors including the surface you are treating and the condition being treated. After meeting with your technician and they can make your treatment plan based on your needs, our Patient Coordinator will be able to give you a breakdown of the pricing for the entirety of your treatment.
Why Choose
Advanced Plastic Surgery
At Advanced Plastic Surgery in Grand Rapids, MI our warm caring staff will attend to your individual needs and ensure that you are comfortable at every visit. Our team is led by Dr. Ewa Timek, a board-certified plastic surgeon for 15+ years. Our staff strives to deliver comprehensive and sound medical advice that will guide patients through the decision-making process. Initiating a call to our office is the most important step to beginning your process of body restoration and aesthetic rejuvenation.
Become a Patient
contact us
Laser Vein Reduction in Grand Rapids can feel like a life-changer and have a positive effect on your self-esteem. Contact Advanced Plastic Surgery at (616) 323-3102 to schedule your consultation with one of our Aesthetics team members, or you can request an appointment through our website today and one of our caring and knowledgeable staff members will be in touch!
Patient Resources
Advanced Plastic Surgery
We're here to help, with a number of patient resources designed to make your experience as comfortable as possible. Read through the materials below, and don't hesitate to reach out.