Introduction To
Laser Resurfacing
Sunlight, the elements, and the natural aging process all contribute to the development of darkened spots, wrinkles, fine lines, precancerous changes, and loss of fatty tissue. Advanced Plastic Surgery can offer state-of-the-art options aiming at the improvement or elimination of signs of sun damage and aging. Young and healthy skin is composed of an even epidermis overlaying the main skin layer, the dermis. The dermal layer contains mainly collagen and elastin fibers providing facial smoothness and a youthful appearance. Sun exposure causes damage to the skin with accentuation of fine lines and wrinkles.
At Advanced Plastic Surgery, we strive to provide the best Laser Resurfacing results in Grand Rapids, MI. If you are interested in achieving healthier, glowing skin, this treatment could be great for you.
What is Laser Resurfacing?
Laser skin resurfacing is a minimally invasive technique to restore the youthful appearance of your skin. The face and neck are one of the first parts of the body to show signs of aging because they receive so much exposure. With the use of sophisticated lasers, our technicians can provide you with enhanced facial skin restoration. These laser treatments will also eliminate vascular and pigmentation irregularities of facial complexion. Lasers used for skin resurfacing (ablative lasers) are devices that emit light at a uniform wavelength that is absorbed strongly by water down in the lower dermis at the depth of about 100-750 µm. Each pulse of energy ablates (vaporizes) a column of tissue measuring approximately 120 microns in diameter. As this vaporization occurs, deep healing induces collagen growth and remodeling. The laser energy is distributed in an even pattern, leaving little areas of untreated skin in between the columns of treated tissue to stimulate skin regeneration.
Ultraviolet radiation (UV) also affects deeper layers of skin disrupting collagen and elastin fibers Fractionated CO2 or Erbium lasers permit precise removal of the diseased tissue allowing skin renewal from the deeper undamaged cells. Laser skin resurfacing is also coupled with a thermal action in deeper layers of the skin leading to new collagen production and tissue tightening. This combined action results in the creation of new glowing skin. Fractionated laser resurfacing is a minimally invasive procedure. It typically requires the application of a topical numbing cream.
If you do not have 5-7 days for recovery, we offer a lunchtime laser peel with erbium Yag laser that will freshen your appearance and improve skin texture with minimal downtime, just in time to return to work within a lunch period.
What are the Benefits of Laser Resurfacing?
Our Aesthetics team at Advanced Plastic Surgery has seen our Laser Resurfacing patients in Grand Rapids enjoy the following benefits from their treatment:
Improve acne scars, traumatic scars, and surgical scars

Lessens the appearance of prominent blood vessels

Quick and easy

Permanent results

Promotes collagen production

Reduce fine lines and wrinkles

Reduce the size of enlarged pores

Treat brown spots, redness, or discoloration

Tighten skin and encourage collagen production
Who are the Best Candidates for Laser Resurfacing?
The best candidates for Laser Resurfacing are people with realistic expectations from their treatment results and who are currently dealing with:
Chickenpox scars

Fine lines or wrinkles around the eyes, mouth, and forehead

Mildly sagging skin

Shallow acne

Sun-damaged or leathery skin
Patients who are pregnant or may become pregnant should not undergo a laser procedure. Similarly, certain medications, medical conditions, or recent tanning can be counterproductive to laser use.
"Enjoy your beautiful self!"
– Ewa Timek, MD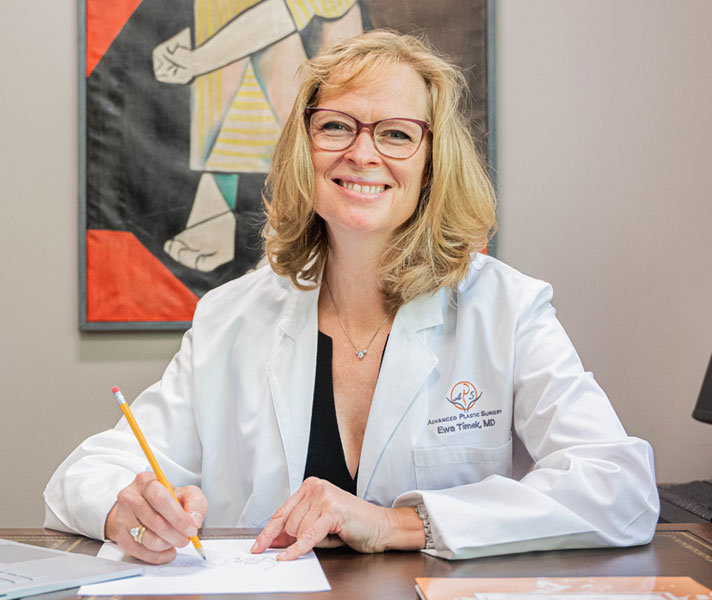 What's The First Step?
AT ADVANCED PLASTIC SURGERY
The first step in getting Laser Resurfacing in Grand Rapids, MI is to contact Advanced Plastic Surgery and schedule a consultation. When you come in for this appointment, you will meet with a member of our Aesthetics team and show them what you are trying to fix and ask any questions you may have. They will then examine the desired treatment area and perform a detailed analysis of your facial anatomy and skin condition and recommend strategies to address the patient's unique needs. As they formulate your treatment plan, the technician will present you with an evidence-based strategy to eliminate or improve darkened spots, unsightly veins, fine lines, or precancerous changes. If you agree with their plan, then you can begin your first treatment session after your consultation, or speak with our Patient Coordinator to reschedule for a better date and time.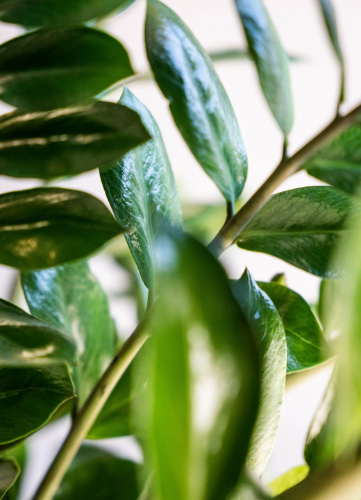 What to Expect on the Day of Laser Resurfacing
When you come in for your Laser Resurfacing, we'll have you make yourself comfortable and numbing ointment will be applied to the treatment area. If you are having a more intense procedure, like your entire face, you may be sedated to make your experience more tolerable. 
During the procedure, the technician will use a handheld device that emits a laser beam at a uniform wavelength that is directed at your skin. The external layer of your skin (epidermis) is destroyed and simultaneously heats the underlying skin, also called the dermis. Each pulse of energy vaporizes a column inducing deep healing with collagen growth and remodeling. The laser energy is distributed in an even pattern, leaving little areas of untreated skin in–between the columns of treated tissue to stimulate skin regeneration. 
Depending on the size and area that you are treating, the treatment should last anywhere between 30 minutes to two hours.
Laser Resurfacing Recovery
Laser Resurfacing is an outpatient treatment that is safe with minimal downtime and you will be able to return to your usual activities and skincare routine immediately, however, we recommend waiting about a week before applying makeup. As you heal, you will notice an improvement in your skin condition including reduced lines, blotches, and wrinkles, and will hopefully enjoy healthier glowing skin.
Total renewal of facial skin with laser is safe and effectual. Patients may experience skin dryness and peeling that subsides within 5-7 days. Healing can be expedited with the assistance of antioxidants and procedure-specific moisturizers offered by our practice. If you experience any pain during your recovery, you can use over-the-counter pain medication or ice packs to alleviate the feeling. The use of specialized skin care is advisable to enhance results.
AVERAGE COST
how much does Laser Resurfacing cost in grand rapids?
The cost of Laser Resurfacing in Grand Rapids will vary on multiple factors, including the treatment area and size. After meeting with your technician and they create your treatment plan, our Patient Coordinator will be able to provide you with a price breakdown for everything your treatment involves.
Why Choose
Advanced Plastic Surgery
Advanced Plastic Surgery in Grand Rapids, MI has such a friendly and knowledgeable staff that is here to help you through your decision-making process. We are dedicated to providing our patients with the latest, most up-to-date, and evidence-based information in a comfortable environment. Our clinic is led by Dr. Ewa Timek, a board-certified plastic surgeon who specializes in a broad spectrum of plastic, reconstructive, and microsurgical procedures. She is a member of the American Society of Plastic Surgeons (ASPS) and the American Society of Reconstruction Microsurgery (ASRM).
Become a Patient
contact us
If you are looking for a safe and effective treatment for some of your skin conditions with minimal downtime, Laser Resurfacing in Grand Rapids could be great for you! Call Advanced Plastic Surgery at (616) 323-3102 to schedule your consultation. You can also request an appointment through our website and a member of our team will be happy to get in touch with you!
Patient Resources
Advanced Plastic Surgery
We're here to help, with a number of patient resources designed to make your experience as comfortable as possible. Read through the materials below, and don't hesitate to reach out.