Introduction
BOTOX
The face begins to display signs of age with the passing of time. Facial wrinkles are created by the underlying muscle contracting and making a line on the skin that is perpendicular to that muscle. The way to eliminate the wrinkle is to paralyze the muscle to smooth out the surface on top of the muscle. Years of contracting facial muscles produce saggy skin, wrinkles, unwanted lines, and the loss of fullness in the face. This is caused by the disappearance of the fatty layer of the skin which descends to the lower half of the face following gravity, emphasizing the creation of lines and wrinkles. Interestingly, wrinkles appear in consistent locations which are always perpendicular to the muscles of facial expression. Though these effects are irreversible, there exist options for setting back these aging processes.
At Advanced Plastic Surgery, we strive to provide the best BOTOX results in Grand Rapids, MI. If you would like to learn more about this incredibly popular and safe non-surgical solution to a more youthful-looking face, please keep reading below!
What Are Wrinkle Relaxers?
Wrinkle relaxers will make wrinkles diminish or disappear by paralyzing facial muscles using purified chemicals produced by the bacteria Clostridium botulinum. When injected in extremely low concentrations into muscles perpendicular to wrinkles, these cosmetic neurotoxins inhibit the movement of the neurotransmitter acetylcholine to motor nerve terminals. This mechanism disables chemical communication between nerves and muscles. In facial aesthetics, the toxins prevent the facial muscles from contracting through targeted paralysis. Although it sounds scary, there is a minuscule amount of the toxin that we apply, so it's not toxic for you as a whole person but it is enough to immobilize the muscles that are intended to immobilize. The neuromodulator blocks a receptor that receives a signal from the nerve to contract the muscle. The onset of action of a neuromodulator can take anywhere from one to four days, but the peak of its efficacy occurs at about 8 days.
Once the neurotoxin wears off, the wrinkles will return but these products can weaken the muscles, thereby weakening the source of wrinkles. This produces smoother skin with a lower need for toxins over time. Cosmetic surgical procedures that reverse the effects of aging can produce long-lasting changes in facial appearance, however, they are invasive and have an associated recovery period of 4-6 weeks. Many patients who are beginning to show signs of facial aging desire improvement but cannot justify the cost or time investment required for surgical intervention.
The rapidly expanding repertoire of injectable treatments including hyaluronic acid volumizers/fillers and muscle relaxers are perfect to suit the needs of different patients. Volumizers (such as Restylane and Juvéderm) are made of cross-linked hyaluronic acid that fills in, lifts, and adds substance to areas of the face that have lost fat and surrendered to gravity. Wrinkle relaxers (BOTOX, Dysport, and Jeuveau) paralyze facial muscles with low doses of toxins to prevent them from contracting and perpetuating the formation of wrinkles.
Our office offers all of these neuromodulators, and depending on the patient's preference they are administered to certain sites. Some of the more common anatomic locations that could be injected with botulinum toxin include:
Bunny lines (nose)
Chin (pitting)
Crow's feet (around the eyes)
Eyebrow for brow elevation
Forehead
Glabella (area between the eyes)
Marionette lines (down-turned smile)
Neck (platysma banding)
Smoker lines (around the lips)
Temporal area
What are the Benefits of BOTOX & Wrinkle Relaxers?
At Advanced Plastic Surgery, we have seen our Grand Rapids BOTOX patients enjoy the following benefits:
Customizable

Downtime is minimal after muscle relaxer injections 

Eliminate small lines and wrinkles on the face

Fast and safe procedure

Smooth, youthful, and natural-looking skin purged of wrinkles and fine lines
It is important to keep in mind that the effects of each injection are temporary and will need to follow-up treatments to maintain results. The number of units and frequency of reapplication vary depending on the extent of the deformity, application sites, and the patient's desired look.
Who are the Best Candidates for BOTOX & Other Wrinkle Relaxers?
Almost anyone can be a great candidate for Wrinkle Relaxers! It does help to have the following characteristics:
Are committed to maintaining good skin health

Don't smoke

Have a positive outlook and realistic goals in mind for the improvement of your appearance.

Physically healthy
"Enjoy your beautiful self!"
– Ewa Timek, MD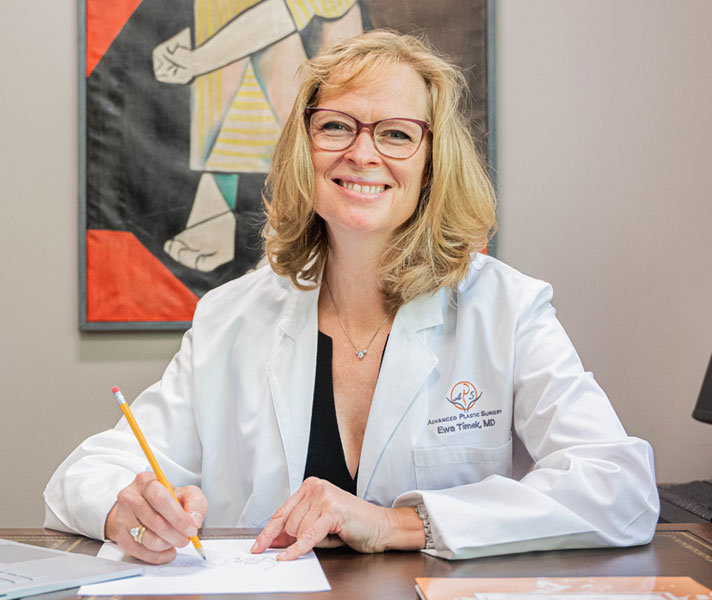 Types of Injectables We Offer
BOTOX by Allergan: Known as onobotulinumtoxinA, BOTOX aims to correct moderate to severe glabellar, canthal and forehead lines. It can be applied to muscles of the upper nose, eyes, and forehead. The formulation itself is a 900-kDa molecule consisting of 150-kDa core neurotoxin and 750-kDa accessory proteins. Together, they create protein complexes. The medicine also contains human albumin, a derivative of blood, and sodium chloride as inactive ingredients.
Before application, the horizontal injection sites are located by lightly touching the affected areas when the face is at rest and when the eyebrows are fully raised. A baseline dose of 20 units for glabellar lines, 20 units for forehead lines, and 24 units for lateral canthal lines is generally administered- a total of 64 units. BOTOX injections usually last 3-4 months. Follow-up appointments are recommended no less than 3 months after the initial treatment session.
Dysport by Galderma: The function of abobotulinumtoxinA used in Dysport is to treat and smooth moderate to severe glabellar lines between the eyebrows. The formulation does not change movement or natural expression in the face. Before the injection, application sites are assessed when the face is at rest and maximum frown. 10 units of Dysport are then injected into 5 injection sites, each one centimeter above the eyebrows, for a total of 50 units. The injection itself contains a freeze-dried botulinum toxin type A, lactose, human albumin, and sodium chloride. Effects of Dysport injections are visible 2-3 days after initial treatment and are estimated to last 4 months.
Jeuveau by Evolus: Jeuveau, or prabotulinumtoxinA, is used to improve moderate to severe glabellar lines associated with a muscle of the upper nose. Jeuveau is clinically developed for and exclusive to improving facial aesthetics. Composed of 900-kDa purified botulinum toxin, the injection is included with human serum albumin and sodium chloride without preservatives. Long-term safety studies have shown that patients received an average of 3 injections over 12 months to maintain their results. Like BOTOX, a dosage of 4 units is injected into the glabellar lines in 5 application sites above the eyebrows and in between the eyes for a total of 20 units.
*BOTOX, Dysport, and Jeuveau are FDA-approved for use on the face. Although botulinum toxin itself is lethal, the minuscule doses in cosmetic injections are safe.
What's The First Step?
AT ADVANCED PLASTIC SURGERY
The first step in getting BOTOX in Grand Rapids is to contact our clinic and schedule a consultation. During this appointment, you will meet with one of our licensed Aestheticians and discuss what you are looking to do. They will ask you about your medical history and examine your face. Together the two of you will decide which injectable would be best for you and which one you would like to utilize. After collecting all of this information, the technician will create a surgical plan for you. If you agree with this plan, you can have your treatment performed right then. If you would like some more time to think about it or just need more time in general, you can schedule an appointment with our Patient Coordinator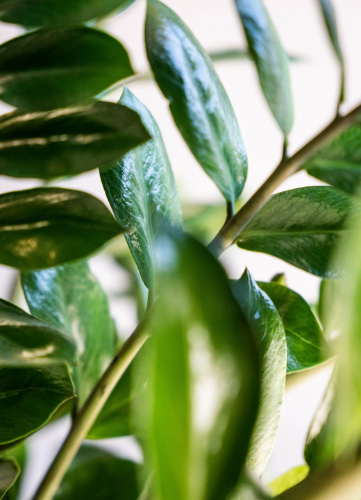 What to Expect on the day of BOTOX
Injectables can be administered during an office visit in 20-30 minutes and do not need a trip to the operating room. These treatments have lower risks of complications compared to surgical procedures and allow the Injector to adjust the product to the patient's liking. With most treatments, no anesthetic is necessary, as the needles utilized are so small that discomfort is minimal. Other treatments require topical anesthetic agents or nerve blocks depending on the patient's preference and the sensitivity of the region being treated.
The chemical products themselves are not painful but there is a bit of pain associated with the needle injection. You will temporarily feel the fluid under your skin, but this discomfort should subside momentarily. Some physicians will use anesthesia if the patient is uncomfortable with needles. Ice packs can also be used after the treatment to lessen discomfort.
BOTOX Recovery
You may experience some redness, minor bruising, or irritation around the injection sites which should subside within 12 – 24 hours. More serious side effects include dizziness, mild difficulty swallowing, double vision, and drooping or swollen eyelids. These complications depend on the location of injections. You will be able to feel your face after the injection as neuromuscular toxins only paralyze motor nerve communication, not sensory nerves, meaning your skin will not go numb in that area.
Proper administration is key, but you should not touch the area where the neuromodulator was administered because it can shift the fluid to another side and cause an undesirable effect, such as an eyelid droop. If this does happen, there are things you can be done to help with a faster recovery. If you don't like the effect of neuromodulators, it will go away in about three months. If we start early, the wrinkles will not develop to the degree they would have if we did not use neuromodulators.
Patients can wear makeup soon following the treatment, but it is not recommended to wear it during the procedure. Make sure to avoid touching, rubbing, or massaging the injection site for 24 hours to prevent the product from spreading to other muscles. 
You will notice initial changes in your face about 2-4 days after the injection, yet the full effect occurs around 8-10 days. Though the time period varies for each muscle relaxer product, it is recommended to get applications every 3-4 months. The toxin works by paralyzing the motor nerve receptors. The body will replace those receptors over time and the muscle will begin working again. The toxin does not negatively impact other tissues like fat, blood, or skin.
Average Cost
How Much Does BOTOX Cost in Grand Rapids, MI?
The cost of BOTOX & other wrinkle relaxers in Grand Rapids is entirely dependent on which injectable you are receiving and how much, among other things. The best way to find out how much your treatment will be is to come in for a consultation, explain what you are trying to do, and listen to what the member of our Aesthetician team recommends. After the two of you agree on the best one for you, our Patient Coordinator will be able to provide you with a cost breakdown for your treatment.
Why Choose
Advanced Plastic Surgery
At Advanced Plastic Surgery, you will be welcomed by our warm caring staff that attends to your individual needs and we will make every effort to ensure that you are comfortable. Our clinic is run by Ewa Timek, M.D., a 15+ year board-certified plastic surgeon with a passion for people. She has hand-selected her team and encourages every one of them to deliver comprehensive and sound medical advice that will guide patients through the decision-making process. Dr. Timek is a proud member of both the American Society of Plastic Surgeons (ASPS) and the American Society of Reconstruction Microsurgery (ASRM)
Become a Patient
contact us
Neuromodulators or neurotoxins for aesthetic application are very effective ways to treat signs of aging and also prevent early signs of aging. At Advanced Plastic Surgery, we would love to show the wonderful properties that these injectables have to our Grand Rapids patients. To schedule your consultation, please call our clinic at (616) 323-3102 or request an appointment on our website.
Patient Resources
Advanced Plastic Surgery
We're here to help, with a number of patient resources designed to make your experience as comfortable as possible. Read through the materials below, and don't hesitate to reach out.