Introduction To
Dermal Fillers
Facial volume loss is a natural result of aging. As you lose facial fat, you begin to have a more hollowed-out, gaunt appearance. In addition to facial fat loss, your skin becomes thinner which allows for fine lines and wrinkles to become more visible. Since healthy skin is widely considered to be a beauty indicator, it can explain why Dermal Fillers are so incredibly popular. At Advanced Plastic Surgery, we have a great selection of Dermal Fillers for our Grand Rapids, MI patients to choose from. If you are interested in learning more about this treatment, keep reading below to find out if this aesthetic enhancement is right for you!
What are dermal fillers?
Dermal Fillers are injectable substances that are used to replace a loss of volume in certain areas of the face. When used appropriately they can result in substantial and fairly long-lasting improvement. They are not replacements or alternatives to using neurotoxins as they treat different areas and problems. The most common type of filler is Hyaluronic Acid (HA), a synthetic version of a gooey substance that your body naturally creates.
At Advanced Plastic Surgery, we offer several different types of Dermal Filler for our Grand Rapids patients. Some are injectable procedures that require the skilled hand of a surgeon, such as periorbital rejuvenation, nonsurgical rhinoplasty, acne scarring repair, and filler to the temples.
Periorbital Rejuvenation
Advanced Plastic Surgery MD Only Injectables
Injectables are also a great option for periocular rejuvenation which is rejuvenation around the eyes. With aging, the tissue around the eyes becomes more receded or atrophic which means that it basically drops down following gravity, and there's less of it. Because the tissue of the lower eyelid is so thin, we can actually see the muscle underneath it which is the black circle that we sometimes see. The black circles make us look tired, makes us look older, so by refilling or replenishing this area with a filler, with a layer that's going to go under the skin, we'll help to obscure and mask that muscle and make this area plumper, healthier looking, and more youthful looking. 
Periocular rejuvenation is very important and very impactful on one's appearance and the way they're perceived by other people. When we talk, we communicate through eye contact. If something is wrong with the area around the eyes, if there are many wrinkles, if there's wrinkled skin, we instantaneously get an impression of the other person's tiredness or their age. By performing an injection or even a combined injection using muscle relaxers, such as Botox or Dysport, and a filler, one can alter that impression and really take away several years from a person.
Juvederm & Restylane
When facial volume begins to collapse, injectable fillers can step in to replenish lost volume and restore a look of youthful vitality to the skin. This FDA-approved, hyaluronic acid injectable filler is used to lift the facial structure and fill the folds around the mouth (nasolabial folds). The injectable gel flows easily into the skin to create a smooth, natural look and feel, providing long-lasting correction to add volume to facial tissue and restore a smoother, plusher appearance. It is often frequently used to smoothen moderate to severe lines" from the bottom of your nose to the corners of your mouth
The procedure is performed by either Dr. Timek herself or one of Advanced Plastic Surgery trained Injectionists, who will apply the HA filler into your skin using a fine needle to temporarily fill in the treatment area.
Radiesse
Radiesse is a biocompatible, non-toxic, and non-allergenic filler. Patients who undergo Radiesse in Grand Rapids are typically 35 – 65 years old and should see up to 80% improvement just one week after treatment. Radiesse is highly sought-after by both men and women who seek a smoother, softer, and more youthful appearance with reduced unsightly wrinkles and creases that form around the nose and mouth as a result of aging.
The results that Raiesse produces are typically longer-lasting than other dermal fillers so it is often used to fill in hollow cheeks and reshape and contour other facial features such as the chin and jawline, can be used as a form of nonsurgical rhinoplasty to improve the appearance of the nasal by filling in any imperfections, and even be used to plump up aging hands. 
ADVANTAGES
What are the Benefits of Dermal Fillers?
Our Grand Rapids Dermal Filler patients have seen the following benefits from their treatments:
Can be combined with other treatments
Customizable
Immediate results
Long-lasting results
Minimal risks involved
Reduced scar appearance
Stimulated collagen and elastin production
Subtle, natural-looking effects
Very little recovery time
Who are the Best Candidates for Dermal Fillers?
The best candidates for Dermal Fillers in Grand Rapids are those who have the following characteristics: Depleted volume in the face (Sunken cheeks, under-eye circles), In overall good health, have realistic expectations regarding treatment results, display moderate to severe folds & wrinkles, and present a positive attitude.
"Enjoy Your Beautiful Self!"
– Ewa Timek, MD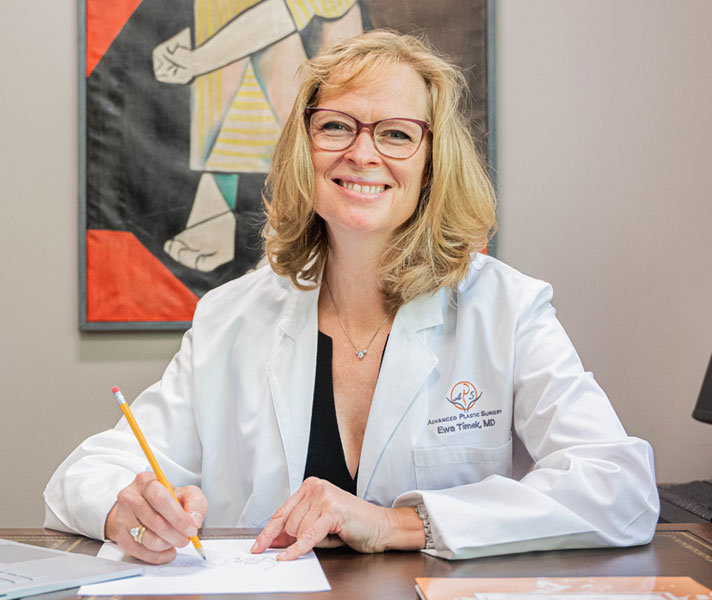 What's The First Step?
AT ADVANCED PLASTIC SURGERY
If you are looking into Dermal Fillers in Grand Rapids, the first step is to schedule your consultation with Dr. Timek or one of our skilled, certified members on our Injectionists team. During your consultation, you will be able to discuss your aesthetic goals, ask any questions you may have about the treatment, and have your face evaluated. You will also be asked about your medical history, during which time it is very important to be open and honest to avoid any unnecessary side effects. You will discuss your different options for dermal filler and which one we feel would work best for you. Once your perfect filler is decided upon, your treatment plan will be made and if you agree with it, you can have your fillers performed immediately. If you would like to reschedule for another day for any reason, our Patient Coordinator will help you select the perfect day and time.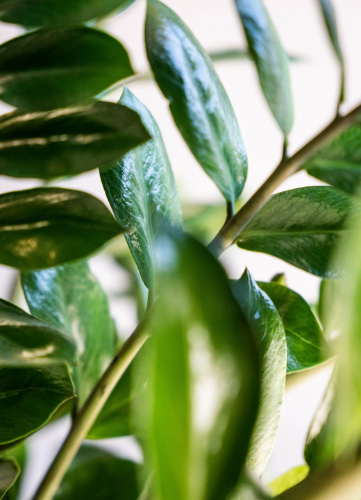 What to Expect on the Day of Dermal Fillers
When it's time for your Dermal Filler treatment, you will first make yourself comfortable in our reclining chair. Then, using a cold compress or a topical anesthetic, we will make sure the treatment area is numb so you have a more enjoyable experience. The Injectionist will make strategic markings to indicate where the filler will go. Using a very fine needle, the filler will be injected into those pre-selected spots at very specific measurements. The results will be evaluated and more filler will be added if needed. The Injectionist will gently massage the filler to spread it around, creating a more natural look. 
Each injection is quick and almost painless. When you are finished and satisfied with your enhanced look, you will be given an ice pack to gently hold against the treated area to minimize swelling and bruising. You will be asked to remain at our office for about 15 minutes to ensure you don't have any allergic reactions.
Dermal Fillers Recovery
Once released, you will be able to return to your normal routine immediately. You may have an "overfilled" appearance that will go away as your body absorbs some of the filler and the rest of it settles. You may also experience some swelling, bruising, numbness, or redness initially after your treatment, but these should resolve themselves over the next few hours up until a few days. 
To minimalize swelling and bruising, we recommend avoiding any intense physical activity for the first 24 – 48 hours. 
AVERAGE COST
how much do dermal fillers cost in grand rapids?
The cost of Dermal Fillers in Grand Rapids, MI will be determined by multiple factors, including the type of filler you are using and how much of it is needed to achieve your desired appearance. The best way to find out how much your treatment will be is to meet with Dr. Timek and have a plan created. Our Patient Coordinator will be able to give you a breakdown of the total pricing for your treatment.
Why Choose
Advanced Plastic Surgery
Advanced Plastic Surgery in Grand Rapids, MI has a warm and caring staff that will attend to your individual needs. Our clinic is owned and operated by Dr. Ewa Timek who specializes in a broad spectrum of plastic, reconstructive, and microsurgical procedures. After graduating from Stanford University School of Medicine, she went on to finish her training in plastic surgery at Loma Linda University in California, where she stayed on staff to earn a Board Certification in Plastic Surgery. Following her tenure there, she returned to Stanford to complete the microsurgery fellowship and join the academic staff.
BECOME A PATIENT
contact us
If you are looking to get rid of those unwanted wrinkles or improve the volume in your face, Dermal Fillers in Grand Rapids, MI from Advanced Plastic Surgery just may be the best solution for you. To schedule your consultation with Dr. Timek or a member of our Injectionists team, please call us at (616) 323-3102 or request an appointment through our website and a member of our team will be in touch with you.
Patient Resources
Advanced Plastic Surgery
We're here to help, with a number of patient resources designed to make your experience as comfortable as possible. Read through the materials below, and don't hesitate to reach out.